More than ten years ago we received the first demand for amber necklaces for pets from two veterinarians near the Baltic Sea.
The acceptance of natural healing powers is increasing since more and more is known what side effects in humans and animals are exposed to treatments by chemical medicine.
Therefore, the demand for "the healing power of nature" is steadily increasing!
Baltic amber, the oldest "healing stone" in Europe, is a natural product.
Natural amber adorns not only as decoration and jewelry.  Rather natural amber is increasing used in cosmetics, in the homeopathic field, in wellness and pets products.
Because of its natural consistency amber is able to act on humans and animals.
Traditionally amber necklaces for dogs and cats are use as so called "tick cords": But many people insist on amber's activity against other unpleasant visitors in animal's coat.
The forces of nature which can slowly diffuse by warming the amber:
- Natural succinic acid and other essential oils like camphor, sulphur etc.
- Natural amber oil
Also because of the static electricity (when amber rubs on amber /frictional electricity) there shall be an electric voltage which prevents ticks to go into the skin.
- Free from all allergy generating components
- Without side effects
- Micro massage of the animals
Specification of our amber collars for pets:
- Pearls of natural amber, untreated, unpolished
- sizes S and M, length-adjustably by flexible closure
- Stringed on a steel wire and hooked into wooden balls (breaking points against strangulation)
And despite of all the skeptics to the amber necklaces for pets: Natural amber has an effect to the pets: so the majority of our customers which gave us a feedback. And they confirm the positive influence on their four-legged friends.
Amber necklaces for dogs and cats, well known by specialist retailers, literature and shopping-TV.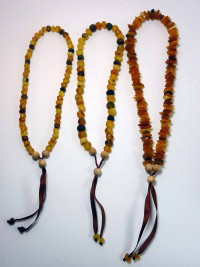 Anti-ticks collars for pets from natural amber